Founded in 2013, Whitworth's is a multi-award winning company.
We have proudly grown to be one of Perth's best car polishing and paint protection businesses.
Whitworth's In A Nutshell
Thank you so much for having a look through our website and we appreciate you taking the time to to read all about the history of our business and what we are all about.
My name is Lee Whitworth and, along with my wife Shelley, own and operate Perth's most awarded polishing business – Whitworth's Automotive Polishing.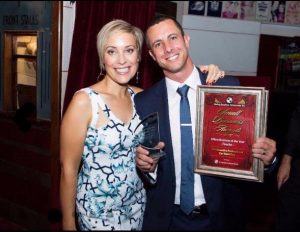 Winning our first award the "Small Business of The Year" back in 2016 was a proud moment for us. This is one of four awards the business has won in as many years.
The other awards include:
"New Business of The Year" (2017)
"Customer Service Award of Excellence" (2018)
"Judges Award" (2019)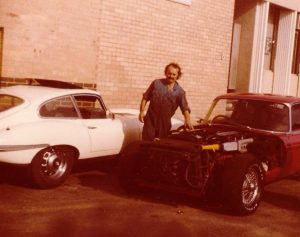 Cars are in my DNA. I'm second generation in car paintwork restoration.
My late father, Bill Whitworth, taught me all about cars from around 10 years old and I've always had a passion for them.
My technique and skill is from 30+ years of experience and expertise in the automotive industry.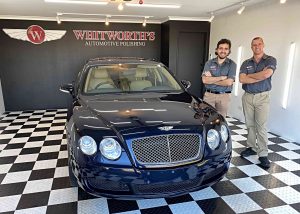 Located in Hillarys, our international standard polishing studio opened in 2018.
Our studio gives us the perfect environment for flawless car finishes, polishing and protection results.
Our Instagram page photos display our unique check flooring reflecting in some fantastic cars. 
My late father, Bill Whitworth, is the one I give full credit to for where our business stands today. Not only because of the extensive skills he had passed down to me but also my Dad's old fashioned English culture in business and customer service ethics has really left a lasting personal impression.
These skills and traits bonded together have proven to be the secret recipe for our business success.
In the mid 1970's my Father immigrated to Australia from the U.K as a best man for a wedding. He loved Perth so much he never returned to England. He quickly established a European car restoration workshop on Aberdeen Street in Northbridge called B&J Euromotors.
There he restored mostly European built cars such as Bentley, Aston Martin, Jaguar, Alfa Romeo, Triumph, BMW and Mercedes to name just a few.
Motorbikes however was his real passion and in his own time he imported, restored and raced classic motorcycles.
Sadly racing motorcycles was where my Dad's life ended.
During the Kings of the West Street race in Geralton 1995 Dad passed away suddenly from a heart attack on the final lap to become the state champion in the 500cc Post Classic class.
Luckily for me when I was old enough to be able to hold a polishing machine at around the age of 10, Dad started to educate me about coach building and vehicle cosmetic maintenance.
Right up to his passing he continued to teach me skills that although now may be considered "old school". However this had set the foundations for me to pursue modern techniques and produce my own approach to creating the highest standard achievable which is unparalleled in Perth's detailing industry.
Today, our business is something my Father would be proud of.
How the business has progressed
We started our business in 2013 (Then named Whitworth's Professional Car Detailing) primarily as a detailing business – to get a feel of the detailing industry in Perth but with the grand vision of solely being a polishing business.
Very quickly we were recognised for our high standards and our little business had taken flight at a faster pace than expected. 
In 2015 we were awarded the New Business of the Year Award with the S.B.A.
In 2016 we were becoming increasingly busy with polishing classic cars and this was the turning point that made us make the switch from being a detailing business to a polishing business.
That year we changed our business name to "Whitworth's Automotive Polishing" and in 2017 we were awarded the Micro Business of the Year award for our business module.
In 2018 we were a finalist for the Innovative Business Award, we proudly won the Customer Service Of Excellence Award. Later that year we also polished two award-winning show cars for "Top 10 Street Machine" and "Best Body and Paint"at Perth's premier car show 'Motorvation'.
In 2019 we helped Sean Jones win the 'Voted Best Buggy' for his 1963 Manx Beach Buggy at the "Day of the Volkswagen". What an awesome little car that is.
Come 2018, we constructed an international standard polishing studio in Hillarys which would enable us to create the highest of standards that one is unable to produce with a mobile service.
Because of our high standards and achievements we were chosen to be Perth's exclusive applicator for America's most popular ceramic paint protection coatings – System-X. This was really flattering and an amazing stamp of approval for our business.
This has taken our business to the next level in professionalism.
In 2022 we continue to strive to offer Perth's best paint correction and paint protection services with good old fashioned customer service that seems to have disappeared with the new generation of detailers.
Our blog – full of advice and great tips
We also have a blog page which is aimed to give you some more information on specific car related topics, such as paint protection, car polishing and our feature cars of the week. 
Stay safe on the roads and enjoy the ride.
Best Regards,
Lee Whitworth.