Perth's paint restoration and protection specialists
Looking for a professional to help remove scratches and swirls?
Are you researching ceramic paint protection and just getting confused?
Do you want knock-out shine on your car that just makes people's jaw drop?
Well, you've come to the right place.
Whitworth's Automotive Polishing is the only polishing business to guarantee a swirl-free finish for car enthusiasts.
We have a genuine passion for what we do backed by extensive experience and product knowledge.
Paint Correction & Car Polishing Perth
Whitworth's Automotive Polishing are second generation in car paint restoration. That's 30+ years experience.
Multi-award winning specialists in paint correction services, we guarantee a perfect swirl-free finish.
Car Paint Protection Perth
Whitworth's Automotive Polishing are specialists in quality paint protection options for your car.
As paintwork restoration technicians, we know what's best for your car, and how to keep it looking beautiful for years to come.
We are authorised appliators for System-X nano-ceramic car paint protection.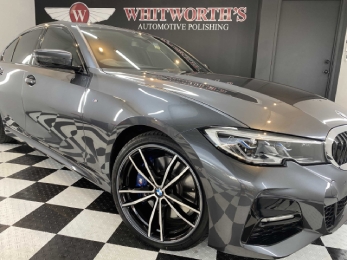 AlloyGator will protect your car's rims against gutter scratches and accidental scrapes.
Coming in 15 colours, including invisible black, you can either make a bold statement or keep it discrete.
Protect your car with AlloyGators and potentially save a fortune in rim replacement. AlloyGators can be replaced individually at a fraction of the cost.
Headlight Restoration Perth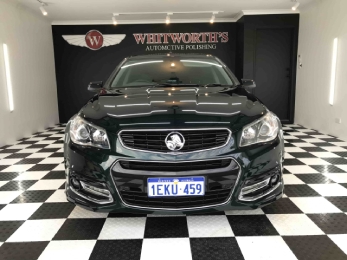 Bring your headlights back to crystal clear and improve visibility with our headlight restoration service.
Ensure the safety of your car and restore yellow and faded headlights.
Introducing Lee and Shelley Whitworth
Lee and Shelley make an award winning team, here they are after 
winning "Micro Business Of The Year".
This was one of our four awards the business has won since its 
establishment in 2013.
Other awards include "Customer Service Award of Excellence" 
and "Business Of The Year".
Our (extremely) happy customers
Great service and an outstanding job

BENJAMIN B.
09:35 27 Jul 22
It was a clear choice due to the review rating Lee has, to bring my Dream car to him for a Ceramic Coat, and he did not disappoint! From the quoting and communication all the way up to retrieving the car, it was all very smooth and very professional! The quality and service is outstanding! Can't be more thankful for the love and care he put into it!- Matt

TheEl3m3nts
02:58 21 Jun 22
Excellent person to deal with, great price and more than happy with the finished result!!

I took my Black Ford G6E Turbo to Lee because it had paint fade on the bonnet, boot and roof. I booked it in and left it with him for 3 hours and on my return was amazed at what a first class job he did. It came up like new. Lee gives great service and first class workmanship. I would recommend him if you want a quality job from someone that really knows his trade. Thanks.

Stephen W.
04:59 26 Apr 22
Was able to have a pleasant chat with Lee before arranging for him to do a full paint correction on my car.I felt comfortable he was the right guy for the work and went ahead a month later.It was quite a buzz picking up the shiny black beast from Lee's workshop.He did a fine job and the car looks years younger overnight :)Everywhere I go people mention how shiny it looks.If you have a cool collector car then this is the guy you want.Thanks Lee,G

Lee fixed my foggy headlight and got it looking like new in a few minutes. Very fair pricing and friendly service. Highly recommend.

Incredible professional. Excellent craftsmanship, attention to detail, high quality products, friendly and efficient. Tick all the boxes for an outstanding business & customer service. No wonder he's got a busy schedule and you have to book months in advance. If you want the best for your pride & joy car like I do, I highly recommend Lee and it's worth waiting for the best service you will find in Perth.

Guilherme B.
09:15 23 Mar 22
I was looking to get my 135i ceramic coated and came across Whitworth's website. Lee's passion for paint care and ceramic coating really grabbed my eye and having now had a 2 stage paint correction and system X coating, I can attest that Lee's passion and skill is every bit as good as it reads. He has reverse over a decade of paint care sins, expertly protected his great work with System X and I am absolutely stoked with the results. My better half wants me to get her car done now! I highly recommend Whitworth's to anyone looking for paint care and ceramic coating

Tristan B.
12:44 17 Mar 22
Lee is an experienced professional when it comes to automotive vehicle polishing. Not only is he incredibly knowledgeable, but he goes well-out of his way to ensure the final product is beyond your expectations. Well priced, his services are world-class, and no matter the vehicle he will always go above and beyond. Had my Volvo in for a 2-stage paint correction, and it left looking better and shiner than what it did when it was brand new. Lee, you are a legend!!! See you again soon 🙂

Anthony M.
02:12 08 Mar 22
Based on a mate's recommendation, I took my 17 year old 911 to Lee for a paint correction and ceramic coating. I was looking to protect the speed yellow finish from fading and get it looking pristine.Blown away by the result, the paintwork looks incredible, he did such a fabulous job of it. All the swirl marks are gone and the car looks better than new.Procrastinated on doing this for a couple of years, wish I had done it sooner, top service from Lee!

It was pleasure dealing with Lee right from the first inquiry. Took time to answer all my queries and explain the process/steps is in detail. Car looks amazing. Even provided a care pack and items to maintain car at home myself. Truly passionate about his work & specialist in his craft. Highly recommended.

rajveen P.
07:33 26 Feb 22
I was lost as to who to bring my cars to for paint correction and protection until I was told by a friend to see Lee from Whitworths Automotive Polishing to get my car done and after seeing Lee's work on my friend's skyline, I knew he was the one to take my cars to and I'm glad I did. Lee has done an amazing job on my new Mazda 3 and has removed all the scratches left by the previous "detailer" from the place I bought my car from and also protected the paint with the System-X Ceramic coating which has also boosted the depth and gloss in the Mazda Machine Grey to the point it could almost blind you on a good sunny day. Lee is very friendly, helpful and the results are outstanding and I am extremely happy with how the car now looks. I would highly recommend anyone who needs paint correction and ceramic coating done on their cars with Lee. Thanks a lot again!

Lee did a beautiful Job on my old smart car, the paint was in quite bad shape, he restored it to a beautiful incredibly shiney finish and has protected that finish with a quality ceramic coating, he has restored the value back into this car, and has restored the joy of this car for me personally.I have to say Lee is very fair with his pricing compared to others that I enquired with.Lee is friendly and nice person to deal with and I would recommend him to friends and family in an instant.He went above and beyond my expectations for this vehicle.

OK – apart from the fantastic finish and professional service this is an honest business. Quoted a price – accepted. Delivered car, great job as you can see, price $100's less than quoted as the paint restoration was not needed. Would have happily paid, instead I get to write this.Second car Lee has transformed (GT Stinger) – the photo says it all – top quality professional finish from a master craftsman. I wouldn't go or recommend anywhere else.

Amazing results and exceptional service from Whitworth's Automotive Polishing. Always a pleasure to see someone with passion doing what they do best – thanks so much Lee, have recommended your work to others!

Constructive M.
07:03 31 Jan 22
Lee did an amazing job a few months back (sorry, only just fixed my Google account) polishing my old EJ Holden. He went above and beyond and you could tell he was passionate about his work. Thoroughly recommend him👍

I highly recommend Whitworth's Automotive Polishing. Lee has polished and paint protected both my cars, and the results are outstanding. I couldn't be happier. Thanks Lee 👍

Lee did an incredible job on my Volvo. Great service and gave me all the information I needed about after care. Highly recommend.

I had the ceramic paint protection done on my car and it was flawless. When it came time to pay, it was under the quote as my entire roof is essentially glass, so Lee didn't spend as much time or use as much product. Most businesses would have pocketed the difference, but not Lee. He is a true professional with the highest levels of integrity. He is very reasonably priced compared to the other detailers around town…why would you pay more?!

2021- just had my new car given the royal treatment with full paint protection and alloygators (pictured). Customer service 12/102016- My car was detailed quickly, professionally and most importantly the result was stunning. Definitely a repeat customer!

OMG the final result was way above my expectations and I cannot recommend Lee services highly enough. Lee provides a value for money, first class professional service based on customer satisfaction. My car is most 20 years old and once again it looks like new. Thank you Lee you're legend.

Can highly recommend Whitworth's Automotive Polishing. Very friendly and thoughtful service, attention to detail and knowledge of ceramic coating products is second to none. We are very pleased with the result!

Roderick M.
23:58 23 Nov 21
Met Lee for the very first time today and i entrusted my pride and joy to him and what a wonderfull experience it was.I have never seen my car in a better light his profetionalism and knowledge is at the very top and the best i have personally experienced. My Ferrari never looked better. Thank you Lee and look forward too many more visits in the future …. can't get enough of the perfect look you gave my car. Thank you Francesco

Francesco Ines P.
07:50 23 Oct 21
Absolutely delighted with the job and lee's professionalism

Had my cars paint damaged by a hsv dealer ,when I took it in for warranty work they did a wash and I thought that was so good until I went to wash it .To my astonishment the paint was now all roughRang Lee to do some magic and boy he transformed the pitted black paint to a mirror liquid looking finish.I would recommend Lee to anyone , he knows everything to know about your paint, very friendly and will explain everything.Best Detailer everIF YOU WANT YOUR CAR DETAILED WITH CARE AND WHO TREATS IT AS IT IS HIS OWN, DO YOURSELF A FAVOUR AND SEE LEE FROM WHITWORTHS YOU WONT REGRET IT

Very professional I could not be happier with the polish and detail done to my car I highly recommend Whitworths polishing

Excellent services provided, great customer service at very competitive prices, would definitely use Lee again.

Absolutely mind blowing. Made our almost 10yr old car look brand spanking new. Mirror finish! Will absolutely be a returning customer and can't speak highly enough of Lee and his amazing professional service.

Scarlett ..
02:24 15 Sep 21
A 6 star service provided by Lee who sacrificed his weekend to install the world's best System-X Diamond SS Nano ceramic glass coating onto my Porsche Macan S.The end result is amazing, overwhelming and so beautiful! Couldn't find a better praise word for Lee for his professional service, quality and his know-how in depth of the product! I would certainly recommend anyone who wants his/her car for revolutionary ceramic coating done up with Lee/ Whitworth's Automotive Polishing!

Raymond W.
07:19 07 Sep 21
Im a returning customer & counting for a 2nd year. Lee does an amazing job on any vehicle iv seen. Super service and quality🌟

I was looking for a ceramic paint protection service online for my new Mazda cx-5, when I came across Whitworth's Automotive Polishing and decided to give them a try, I contacted Lee to book the car in and he was awesome to deal with, I bought the car in and left it the hands of Lee, I came back to pick up the car the next day and holy smokes the car looked amazing, not only is my paint protected but the white on my cx-5 is really poppin now. Lee is truly passionate at what he does and I see it in his work, I highly recommend Whitworth's Automotive Polishing.

Ebenezer J.
03:57 14 Aug 21
Lee's business is all about that one on one approach- you are not just "the next car" . Lee did a fantastic job and I would highly recommend him to anyone no matter what type of car you own

Cricket V.
13:05 08 Aug 21

From the first time I contacted Lee, he was professional, quick to reply & it was clear to me that he was the right guy for the job…as you can see by his reviews! I had the two stage paint correction done on my black SSV redline followed by the System X 'Diamond Super Slick' ceramic protection. I was extremely happy with the process from start to finish. He sent an update photo of my car after the paint correction had been done & I was extremely happy by how amazing my car looked even before the ceramic coating. Upon pick up of my car, I was blown away when I saw my car shining away in the garage. It looked better than I'd expected. I'd definitely recommend Lee at Whitworth's Automotive Polishing!

I stumbled across Lee / Whitworth's on the internet. I made contact off the back of the great reviews. I can't be happier. Lee was super patient answering all my pedantic questions. I was reluctant to hand over the keys to my 1-week-old Stinger GT but needn't have worried. The results are amazing. Just as pleasing, I have just returned from a road trip down south where the Stinger endured some serious rain and road splatter and I can confirm that all Lee's hard work has paid off. The System-X coating, and Lee's preparation and professional application works a treat.I also opted to get the tinting done on premise, at the same time, using Lee's recommended tint contractor who did a great job. The contractor discovered an issue with the interior door handles that I subsequently had fixed by Kia.Thanks Lee!

I found Lee on the web and used his services for the first time on my 10 year old Golf GTI. He did an amazing job on the paint work and it looked brand new again. I am a very fastidious car nut and I was super impressed with his service. I will be taking my wife's car to him next.

Lee did our Subaru Outback and the job he did was outstanding it came out Amazing, his workmanship is excellent highly recommended from us.

waggaclint
11:43 20 Jul 21
Great service, great result.Car looks amazing and Lee's advice on all car care issues and products really helpful.Highly recommended

Thanks Lee for an amazing job on our car cannot recommend highly enoughIf you want the best book your car with Whitworths you won't be disappointed

After shopping around for a quote to improve and protect the appearance of my beloved 86, I spoke with Lee at Whitworth's Automotive Polishing. He was quick to respond to my query, knowledgeable, flexible and professional, providing me with a range of choices suited to my budget, which didn't compromise on quality.I chose the paint correction and System-X Diamond permanent ceramic coating services, booked it in, dropped it off and was blown away when I returned to collect it. Now it looks like it should – a clean, new, shiny, beast of a car. I recommend Whitworth's Automotive Polishing to anyone seeking to improve, protect or restore their vehicle's appearance to it's absolute best.

Fantastic job in turning my Black M340i into a shiny looking monster after a 2 stage paint correction and ceramic coating. Price was also very reasonable for the work done. Definitely coming back with another car soon and will recommend to anyone looking for a professional ceramic coating job for their pride and joy.

Thanks to Lee for his outstanding work on my VF Clubsport, I never thought black could actually look this good. I will be along time customer at Whitworth's Automotive Polishing. Lee went over and above what I expected, the level of detail and genuine care is not common these days.

Absolute champion bloke Captain Whitworth is,highly recommend going to see him for all your vehicle needs

I found Lee with a web search. My car was sun damaged and in need of a respray but I tried his 2 stage paint correction. The results were even better than what is shown on his site. The car looks brand new and Lee's professionalism, skills and attention to detail are immaculate. Highly recommended.

Professional and truly passionate about his craft. Lee completed the ceramic coating on our Mach1, amazing result!Professional service and advice from start to finish. Highly recommended and we will be returning with more cars. Many thanks Lee 🙏

I had seen Lee's work on Facebook, asked him to tidy up the paint on the 08 hilux, he did a good job and polished the ute tray sides to a chrome finish.Thanks Lee.

As soon as I called Lee to enquire about ceramic coating my car I knew his business was the one to use. He was incredibly knowledgeable and more than happy to have a chat long before I booked the car in. He got the car in on short notice and even stored it for me. The result was night and day, the freshly painted car looks the best it has since new and he's continued to be helpful since. 10/10 would recommend for all of your polishing and ceramic coating needs.

My BMW Z3 was involved in a white spray can tradie accident. Was highly recommended to Lee, took the car round to him for a quote. So helpful, got his machine buffer out to test sample an area to see if it could be recovered . Set a date to take in, has come out looking like a new car and it's over 20 years old! Professional job, and even did a few extra touch ups. Highly recommended. Can see why he's got so many accolades. Quality job. When I work out how to get a photo up here I'll put one up!

Double AA Retro Double AA R.
14:25 29 Apr 21
Lee provided exceptional work and highly professional service. I recommend Whitworth's to anyone looking for the best results in Perth.

A very professional and quality outfit. I didnt think 20 year old paint could look so good. Highly recommended.

Very professional, honest and reliable service. Worth a visit.

ElGrande O.
10:41 16 Apr 21
My 2011 Megane RS had truly awful paint when I bought it. Whitworth's did their 2 stage paint correction and the result are better than factory. Excellent attention to detail. They even looked after the car for me overnight at short notice. Nice to experience some decent customer service for once. Thanks again Lee. I will certainly be recommending your services to my friends.

Arranged to get rim guards with Lee. Had to change my time around due to work and he fitted me in quickly and did a great job. Very happy with the service and product.

Thanks Lee, we're super happy with your 2 stage paint correction process in our old GC8 WRX. We're actually both shocked at how you made the old girl pop after 22 years!!! We'll be back for sure 😂

Absolutely incredible attention to detail leading to an outstanding finish. Customer service was spot on! Over the moon with the finished product and will definitely return in the future!! Cheers Lee!

Took my new Supra to Lee after seeing the magic he worked on my partners GR Yaris. Safe to say he did an amazing job on it too, looks better than brand new. Will definitely be recommending Lee to anyone who needs his services and will be bringing any future cars to him also. Thanks again Lee and see you in 12 months for my shine up polish 😉

Lee done a mint job on my ranger and is a top bloke to deal withcheers

Thanks so much to Lee for a very professional & efficient job with the paint protection, window tinting & front windscreen treatment on my new car. The finish on the car looks fantastic!Lee was easy to communicate with & got the job done on time. I'll keep in touch with him in the future for ongoing maintenance and any new work that comes up.I would not hesitate in recommending his services and products.Thanks Lee!

Car looks immaculate after it was finished 👌 could not be happier with the results. I would highly recommend.

I can honestly say that the paint work on my brand new Mazda 3 looked better than when I picked it up from the dealership. The ceramic coating has made it look absolutely stunning.Thank you Lee and your team for an outstanding job.

Lee is a top operator, you may find cheaper quotes but they definitely won't do as good a job. Super happy with the superb job – will be booking in my other car ASAP.

I was absolutely blown away by the quality of the work displayed by Lee to get my 2008 Ford Transit looking like new again! Van had been covered with vinyl graphics for over four years and you'd be forgiven for thinking that Lee had fully resprayed it to get the paint as glossy as it must have been off the showroom floor. Not only that, he got rid of the yellowing on the headlights (I'd been told by a dealer that I'd require new headlights as they were so yellowed and dull), and brought the bumpers back from a dull grey to a deep black again (he even shined up the blackened steel wheels). Well worth the extremely reasonable (actually too cheap if I'm honest) outlay.If you want a high quality exterior detail performed by a passionate and proud professional, forget everyone else and give Lee a call. Your expectations will be smashed!Footnote:Ended up selling the van for around $6k more than I was being offered prior to Lee's outstanding paint restoration. Money well spent!

I love the look of my car after taking it to Lee for a 2 stage paint protection. The paintwork has come up wonderfully and makes my 6 year old Pajero look brand new. I am already organising to take our other family car to him.

I always get my new car paint treated but no one has come close to the finish Lee has put on my new Mazda 3. His price was $300 cheaper than the dealers price and no one could have made the car look as stunning! Plus he was great to deal with.

I took my car to Lee for his paint protection service and was extremely impressed with the outcome. I can't recommend Lee highly enough, it's easy to see his experience and passion in the quality of his workmanship. Great service, great value and an all round great experience, which is want you want with your beloved vehicle!!

I got Alloygator rim protection in red on my new car. Lee's professionalism and service was exemplary and he is lovely person. He even cleaned the paint work on my car making it look like it just rolled out of a showroom at no cost. I highly recommend this business

Absolute perfection. My car turned out better than I ever could have imagined. The amount of compliments and head turns I get get is unbelievable. Money well spent. Thank you big time Lee. I'll see you soon with my other cars.

HIGHLY RECOMMENDED for Headlight Restoration, very helpful and friendly 👍

Michael P.
12:08 23 Jan 21
I had Lee restore the headlights on my Hilux. It's clear he takes a lot of pride in his work including taking the time to mask up the surrounding trim panels.Amazing quality at an even better price. I've already recommended him to friends.

Mitchell O.
10:01 21 Jan 21
I had a small job done on my car to restore the headlights, and I got the distinct impression from first meeting Lee that things were going to go well. The job was done quickly, inexpensively and his manner with customers is the sort of thing that other service providers could take note of. Excellent!

I am very happy that I choose Whitworth 's Automotive polishing for my new car. Really appreciate the friendly professional service by Lee and team.I will never hesitate to recommend his service to anyone.

I got my RS focus polished today with lee at Whitworths automotive polishing talk about a first class job. Thanks lee 👍👍

Lee did an excellent job of applying a System-X ceramic coating to my new vehicle, including polishing out some minor defects. Lee is easy and informative to deal with and offered a fair price for the service.If I was going to get this done again, I would have got Lee to remove some existing microscratches in the paint finish, by including a paint correction, but since this was a brand new car you'd hope that wasn't necessary! My error and, to be honest, no-one notices them but me.Lee finished the car to a high standard, and I have no hesitation in recommending him to others.

Lee and Anthony were absolutely amazing! Perfect workmanship, super friendly and quality products. Would recommend to anyone seeking out the best for their vehicle

Jacinta C.
05:10 12 Jan 21
Delighted with the way my Sti Impreza turned out. The car looked like new when I got it back. Great work, I couldn't recommend enough.

Excellent customer service from the quoting stage to picking up the vehicle. Lee's an honest guy will be recommending him to family and friendsThanks leeDale

Had my Mum's older Corolla done and it was treated as if it was a Maserati. Great job and super friendly, yet very professional, job. Lee knows his stuff!

Lee is an absolute magician and did an amazing job on my Toyota JZX100. Can't believe I didn't do this sooner and would 1000% recommend him to anyone and everyone.

Lee is very professional and his workmanship immaculate. He explained the process and difference of protective coatings available within the industry. We chose Whitworth's due to all to of the fantastic 5 star reviews and are extremely happy to add our own. Thanks Lee

Just picked up our car and looks better than brand new (and it's only a month old!) Lee was very helpful and gave us plenty of tips to make sure the car looks this good for a long time to come. Would likely go again next time we buy a car!

Absolutely unbelievable results, car looks brand new.Would highly recommend, Lee is an absolute legend.

Stephen B.
09:41 01 Dec 20
I Had my car polished and ceramic coated by Whitworth's this week, to say I am happy is an understatement, im over the bloody moon – not only was the work far better than I expected, but Lee is a True Aussie who takes pride in his work, easy to talk to and answers any question you have without making you feel silly. I dropped off my car with the biggest swirls and honestly I told Lee that I wasn't expecting perfection – Man did he deliver!Over all, I believe Whitworth's to be the Best Automotive Polishers in WA, you will search far and wide before you find someone else of this standard I guarantee it.Value for money 10/10Customer service 10/10And most importantly is the care taken with your pride and joy 11/10

I will be taking my car back to Lee at Whitworth's every time from now on. I recently bought a VE SS ute but the headlights had build up/fading therefore it gave them a frosted look and light output wasn't ideal.It didn't take Lee long at all and now he has restored my headlights and now they look like they're brand new, light output has also increased.I was very happy with the top quality professional service. We did a minor detail with my car and wow, it now looks like showroom condition. Thanks very much again Lee for the awesome job & great service. Will be getting more services from you again once I'm back in town. Cheers

Recently purchased a golf r which had heavy swirl and water marks all around the car.. Lee did an awesome job on removing all the heavy swirls making the car looking as good as new! i am very happy with the work and can finally drive my car without being embarrassed because of the swirls. highly recommend Lee!

Tristan H.
08:42 13 Nov 20
Professionalism and helpful

Just a dream to book, and have done. Lee is a complete professional and fellow enthusiast. The car looks better than new and turns headsHe put up with my questions and need for clarification on what I should get done, giving me information without being pushy. We've booked my wife's car in already because of the great work.Finally it's a small business run by him, and he does the work so his name is behind it and he backs it up.Thanks Lee!

Very happy with the service and professionalism of Whitworth's. Lee did an incredible job and my Landcruiser looks better than it did in the showroom. Outstanding workmanship and quality – I would not hesitate to recommend.

Lee is an absolute legend,professional excellent knowledge would have to be the best in the ceramic coating industry. Highly recommended.

I just had my 2011 S5 pollished up ..I could not be happier with the professional result and totally professional service .I highly recommend …..5 star easily

Lee did an absolutely outstanding job on my little black suzuki it's literally sparkling✨looks BETTER than a brand new car, could not recommend his service more his work is amazing!

Awesome job car never looked this good when i bought it far exceeded my expectations

Phillip W.
10:28 19 Oct 20
Just had my vehicle polished by Lee at Whitworth's Automotive Polishing (WAP) and the result was fantastic…in fact the outcome exceeded all expectations. Thank you Lee for your attention to detail, professionalism and customer service.I cannot recommend WAP highly enough!

Anthony D.
12:37 11 Oct 20
I brought my A90 Supra in covered in dust and rubber marks from a crazy weekend at the track, Lee brought back the shine and made it look absolutely amazing!

kristian T.
05:26 11 Oct 20
Lee is an absolute professional and gentleman. From the first time I called to enquire about getting my new car ceramic coated and tinted, right through to picking the car up finished he took his time and care to explain the process and answer the barrage of questions I fired at him.I was blown away with how awesome my car looks and couldn't recommend the Whitworth's Automotive Polishing team highly enough!!!The rim guards have saved me a couple of times already….

One of the best in the business, all round good guy and provides a quality service. Can't recommend enough

I was expecting a good job, I received a fantastic job. Could not have been done better. Very, very happy customer.

Lee did an awesome job rejuvenating my sun bleached headlights, came back looking like new! Great guy, great service, highly professional, punctual and extremely good value for money! I'll certainly be recommending him to all. Thanks Lee, greatly appreciated.

Lee was able to restore the filthy headlights on my Toyota Hilux to showroom condition. His service was excellent and the work was done very quickly.I highly recommend Whitworth's Automotive Polishing to anyone.


I have my Volkswagen Passat headlights restored like new without needing to buy new pairs. Lee is professional, expert and very friendly. The cost is competitive compared to others, great value for your car investment. Highly recommended!

Lee did a great job on the paintwork on my 7 year old Mercedes, bringing it up to better than new! Fantastic attention to detail and prompt, professional service. I would have no hesitation in recommending Whitworth's to anyone who wants to fall in love with their car again…

Lee performed a 2-stage paint correction on my 23 year-old BMW convertible which, as one could expect, had a lot of wear and swirls due to it's age. Lee was able to excellently restore the paint of the car to showroom condition, as well as freshen up the interior too. There was also the lovely surprise of some micro-fibre towels and some packet cloths that he left as freebies which was very lovely indeed. Thank you Lee and Anthony for your hard work and your professionalism, you will certainty see me again in the future 🙂

Very happy with the results from the ceramic coat, thank you

Took my black ss-v in for a 2 stage paint correction to remove swirls as previous owner had done a terrible job attempting to polish it themselves. All I could say when I saw it was wow, it looks amazing exceeded my expectations by far. Lee is an extremely nice bloke and is the best at what he does, thank you again Lee you are a legend

Amazing work done by Lee! Highly recommend if you want a great job done, turned out better then I imagined. Thanks Heaps! 😊

Took my FPV F6E to Whitworths for a 2 Stage Paint Correction yesterday. Jaw hit the floor when I saw it finished, didn't realise a Black car could glow so much!On top of that great friendly service!5 Stars wouldn't trust anyone else for my car!

Amazing work from Lee, was great to deal with, my car looks brand new!

Lee did a fantastic job on my Ford falcon xr6, he got most of the swirl scratches out and just made my car shine like a mirror. Highly recommend, awesome job,👍👍👍

Lee was very professional from booking in my car to picking it up. He took time to answer all my questions and after leaving my car with him for a paint refresh the end result was fantastic. Very happy and would definitely use his services again.

Cass n Corey (.
09:52 31 Jul 20
All I could say was " wow"!! Lee did a superb job with the ceramic coating on my car. It looked better than when I drove it out of the dealership! The shine was unbelievable. Nice to see there are people out there who still take pride in their work.

Lee is awesome, meticulous and passionate about his work. My partner and I have always preferred his work over the years. If he wasn't so far away from us we would be coming to him much more often.

MsCynthia L.
03:37 26 Jul 20
Lee is a professional and you can tell by the quality of his work. His service was great and we're really happy with ceramic paint protection he applied.

Jessica D.
11:56 12 Jul 20
Lee was extremely professional and knowledgeable about vehicle paint protection. I found Whitworth's Automotive Polishing online and I visited his workplace where Lee answered all questions without hesitation. My car was new and I wanted the best ceramic paint protection for it. Lee is very friendly and forthcoming and really cares about the end result. I recommend him to anyone thinking about the value of paint protection. Whitworth's is the only way to go.

Kareene L.
07:31 08 Jul 20
I have just picked up my Ford Ranger ute from Whitworths automotive polishing and wow Lee has done an amazing job. I am a painter and there was a lot of paint all over the ute, Lee has not only managed to remove most of the paint he has made it look like new again. Lee was extremely professional and takes great pride in his work. I highly recommend Whitworths automotive polishing

Lee done some paint correction and ceramic coated my VF GTSR and it turned out unbelievable. His work is very professional and I'll definitely be a returning customer. Thanks Lee

Just amazing!Lee is beyond friendly, extremely professional and provides just all round great service.He has fixed two scratches on my car, one deep one that needed repainting, and one scuff that just buffed out, both turned out exceptional.I would recommend him to everyone I know, definitely go to him if you want your car looking literally perfect!

Lee did such an amazing job on my black 2019 Subaru Levorg GTS. I settled on Whitworth's after doing some research on car detailers with ceramic paint protection in Perth, and I am very happy with my decision. Not only was the ceramic protection and polish at an outstanding professional quality, Lee is very down-to-earth and goes above and beyond to provide an excellent level of customer service that is so often missing with larger companies. I highly recommend Whitworth's for showroom quality paint work and exceptional customer service – I wouldn't take my car anywhere else in Perth for paint protection and detailing.

Highly recommended!System X Ceramic Coating Is top notch.JT

Absolutely happy about his work ! Would recommend it always and to everybody ! Thank you very much Lee !

Hey LeeJust got home and had a closelook at the Audi. I dont know how you did it. But thanks for getting those 'coined' scratches out. I thought they were beyond repair. You're a magician Lee!!RegardsBrian

Would highly recommend Lee! Had the ceramic protection done on my new hsv colorado and it looks fantastic! I done an exceptional amount of research in to who is the best in the business for this type of service and after having him work on my vehicle , I'm extremely pleased with the result and 100% certain , he is the best in the business! Do yourself a favour and don't take your vehicle anywhere else!Thanks heaps LeeRegards,Nick

Lee does an amazing job, takes such care in your vehicle and does very good work. Would recommend to anyone who is looking to get their car ceramic coated.

My boyfriend had organised for our cars to get our headlights restored. Unfortunately my car decided to throw a check engine light that day so it had to be left at home (thankfully it was fine… pesky O2 sensors). We rock up and the first thing I see is this beautifully done silver Mitsubishi in the garage and I was in awe. I had been meaning to get my silver WRX done for a while but i had been umming and ahhing as I was unsure where to go. After my bf's headlights were done (which was within 30 mins!!) I asked about the services that are offered and if I could squeeze my car in some time for the whole shebang. Lee was informative, kind, understanding, treated me well and as an equal. He even put my wheel back on (long story short, it was getting repaired and ran late by a few days and had to drop the car off before getting the wheel) and let me pick up my car after work. Not only was the customer service fab…. my car has never looked so good! The silver just sparkled and looked magnificent. I could literally see the reflection of some of the stickers I had on the back window in the spoiler perfectly. The silver fleck just shimmered so much it was like it was different colours under different lighting. I was given so much information and supplies on car care as well. He went above and beyond and I cannot thank you enough! Very happy 🙂

Went to whitworths with my swirled scratched car. Had a brand new spoiler that had just been painted. Lee took his time and patience with my pride and joy and truely delivered. He has taken out all imperfections and made the car look and feel like it's brand new! Worth its weight in gold and I'm very happy with the outcome

Tequila R.
01:06 18 Apr 20
I just got my new rav4 with paint protection done by Lee. I am so amazed by the job he have done. The car shines bright like a diamond ☺️. Everything is so sleek from top to bottom. Thank you so much Lee for the amazing job, and I would recommend you to everyone who wants to really take care of their car.

When I purchased my black ssv z 6 weeks ago it was undercover at a car yard. BUT when I saw it in the sun holey smoke it looked like a 6 year old had polished it. But thanks to Lee he worked his magic. Now I don't feel embarrassed to drive it. it looks brand New, thanks Lee.

Michael G.
22:58 09 Apr 20
Lee;s work is A1. Car is sparkling more than a bats eyes in a wuhan wet market…

Well today I took my VY SS ute with a brand new paint job into Lee asking of the impossible, I had accidentally gotten super glue on my car, Lee was able to get it off, all the while making my car look better then ever and even removed a rather deep scratch for me as well, could not recommend enough. The man is a miracle worker and very professional.

Odin Revolt H.
10:29 16 Mar 20
Extremely happy with Lee's Prompt, professional workmanship. Will definitely use Whitworth's again and would be more than happy to recommend them.

My 2016 Audi looked was covered in swirl marks from the previous owner. Looked at many polishing companies but one stood out well above all others (Whitworths Automotive ) with sooo many amazing reviews I felt extremely confident that my baby would be in good hands…..WOW! My car looks brand new again. Lee's knowledge and professionalism is second to none, he gave me invaluable advice on how to keep my car in tip top condition and also has some amazing products you can purchase direct from himself. I will be back on a yearly or biannual basis to get the 1 stage polish. Book in advance to avoid disappointment (always a great sign when a company is booked out like that). I will 100% be reccomending Lee's services to everybody I know.I have used other car polishishing companies in the past and they didn't come close in regards to overall value for money and professionalism. All the 5 star reviews are truly warranted.

Got my black ford mustang done by Lee. My clear coat was in terrible shape when I left it with him. I had the two stage paint correction with the ceramic coating done and my car seriously looks brand new! The black has such a mirror finish to it and the ceramic coat has made washing a black car a real breeze! I'd seriously recommend Lee to anyone looking for this kind of service. Thanks again! Beyond happy

Lee has an attention to detail that is second to none, his hard work shows on the finished product and it is worth every cent! If you want a top job i truly believe Lee at Whitworths is the best in perth, i would highly recommend him after the job he did on my car.Thanks again!

Lanorizzle
01:12 21 Feb 20
I badly scratched my two month old Landcruiser on both sides and Lee came to the rescue with a superb polish job that makes my car look like it is straight out of the showroom. He did the job promptly and at a great price. Would recommend or employ Whitworth's car polishing services again! Thanks Lee!

John Di G.
08:00 29 Jan 20
Awesome treatment !Well worth the investment, Lee really knows his stuff.

Got my heavily yellowed headlight restored in just 45 mins…great service, easy to deal with, good advice on paint car and really well priced. Cheers Lee!

'A picture is worth a thousand words' – Fred R. BarnardIf you want automobile ceramic coating that is of the highest quality, I suggest you give Lee a go. I have yet to come across another small business owner with 100% 5 stars review.The hard part is actually the prep work prior to coating. Washing, claying, polishing, etc. This is not a weekend job for an average Joe. You do need a professional to apply this ceramic coating.

Yau Shu W.
12:20 17 Jan 20
Wanted to get the ceramic coating done for a bit of weather protection, ended up just completely amazed at what Lee did with my ute. Literally speechless when the sun brought out the Peacock Green after the coating, just stared for a solid 20mins this arvo. I think Lee might love my ute more than I do, but thats exactly what you want he goes over and above. A+++ job will be recommending to anyone that wants to get it done.

Lee is a great bloke and a perfectionist. Had a good first experience today and will be back with any other jobs i need.

Top bloke, top grade work. Honest and professional. My job was only small but I was still very happy with the outcome. Highly recommended.

Very satisfied with the professional service Lee has provided. Excellent job on applying the System X ceramic protection on my Mazda 3 from brand new. Well priced compared to dealership. I will be recommending Lee! Thanks again.

Lee did an amazing transformation on my black Holden Astra – looks terrific. My old girl looks like new.

Another happy customer. Top bloke. Top job

Great job on my Nissan R34. I never thought it could look that good. Thanks

Feature Cars & Expert Tips
09-12-2020
The Ultimate Guide To Washing Your Car Have you been doing it wrong this whole time..? So you've just finished your MASSIVE "To Do" list, finally sit down, and you remember… the car hasn't been washed in ages.We are all time poor.
[...]
18-11-2020
Should I get new car paint protection? New car paint protection has very distinct advantages. It provides a superficial layerwhich will protect the paintwork from fading, bird droppings, tree sap and micro-scratching. Paint protection also makes washing your car easier and it
[...]
20-10-2020
Which is the best paint protection? The more research you do, the more confusing it seems to become. There are many, many different brands of paint protection, all claiming to do various things. Whether its protection from the elements, UV rays, fading,
[...]